---
by Alex Deleon
Alex Deleon is an American film critic and film festival veteran who fell in love with Sodankylä at first sight and rates the midnight Sun festival at the top of his list.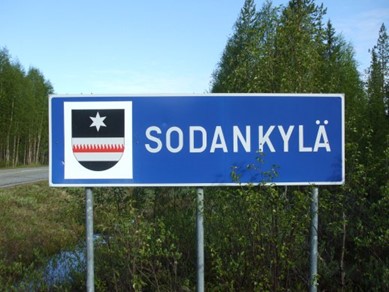 ---
The Midnight Sun Film Festival takes place in the Lapland village of Sodankylä on the Arctic Circle in northern Finland during the longest days of the year in the Middle of June.
It is so named because at this time of the year at this elevated latitude the sun never sets. At midnight the light of day in Sodankylä looks like late afternoon down south in Helsinki and around 3AM Old Sol does dip almost to the horizon but not quite, then starts another upward swing. Meanwhile films are being projected around the clock as bedazzled Finnish cinephiles roam the premises from one tent to another and fight off the giant mosquitoes with ample doses of vodka as a natural repellent. Apparently, the Finnish mosquitoes don't have a taste for blood mixed with alcohol.
Screenings in the big circus tent do indeed have a circus like atmosphere but can get pretty chilly in damp windy weather which may arise without warning. There are also more sheltered screenings in the schoolhouse around which the festival is centred or in a proper cinema building a short walk away. The entire atmosphere is very informal, highly energized and the audiences are composed almost entirely of sophisticated savvy film buffs and specialized film journalists who know what they're here for — to see a prime selection of unusual films, many of historical importance, and many by acclaimed international directors — and often to interact with such directors in lively Q and A sessions following screenings.
Sodankylä is not an easy place to get to and therefore attracts people who really want to be here to immerse themselves in the art of cinema once a year and meet up close with a heady selection of festival guests.
This year the 32nd edition if this unique upper echelon niche festival takes place from June 14 to 18 and will have as guests the kind of artists that only a festival of this nature can attract.
The two main guests are alone worth making the trip.
Spanish director Carlos Saura, now 85 and still active, forms along with Luis Buñuel and Pedro Almodóvar a triad of Spain's most renowned filmmakers. Among his masterpieces in a career going way back to the fifties, one can mention the all flamenco dancing CARMEN, 1983, spotlighting the dazzling terpsichorean talents of Antonio Gades
IBERIA, 2004, in which he filmed a collection if the top Spanish flamenco guitarists and other musicians preforming different versions of Isaac Ibanez's stirring Suite Iberia, which in his hands became a masterful musical creation in its own right aside from being a precise Documentary. In addition numerous historical dramas pertaining to the Spanish civil war during which Saura was reared, make him one of the great European directors of the century.
The amazing Antonio Gades in Carlos Saura's amazing all flamenco-dance CARMEN …
German actress Hanna Schygulla, born 1943, came to prominence in the sixties as the stunning young muse of Maverick German genius Rsiner Werner Fassbinder. By the seventies she had developed into one of the European cinema's most glamorous stars of the kind they used to make in Hollywood.
Altogether she starred in over twenty Fassbinder films (in spite of disagreements with him over the interpretation of certain roles) and was awarded a Berlinale Golden Bear in 1978 for "The Marriage of Maria Braun". Schygulla also registered strongly in such iconic roles as Effi Briest and Lili Marlene. Other leading directors (Godard, Wajda,Schloendorfer, Hungarian Bela Tarr, and Carlos Saura!) enlisted her talents later, until she finally grew tired of being a film star and took up a career in France as a very successful Chanson singer.
A number of her non Fassbinder films will be screened here including Schloendorfer's The Circle of Deceit (1981), Godard's Passion (1982), Israeli Amos Gitai's The Exile (1992) and Turco-German director Fatih Akan's The Edge of Heaven (2007) affording insight into the overall trajectory of this remarkable and and unique actress's lengthy film career.
The thing about Schylgulla is that she was sexy, wild, rebellious, and highly talented all at the same time and her gutsy personality always shows through the slick glamorous exterior. I have seen all of her Fassbinder films and am now looking forward to seeing her work with other talented directors. This is just the kind of thing that the Sodankylä festival is noted for.
---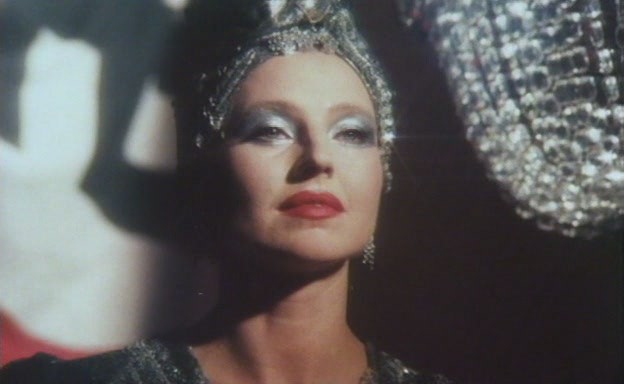 ---
Culinary note: The Daily lunch available at the schoolhouse dining room (and elsewhere in town) is Reindeer stew, mash potatoes and Arctic brambleberries on the side. Worth a trip to the Far North even without a film festival to cavort around in.
---
---